Hi everyone! I'm Kathy from https://thenoveltyoflife.wordpress.com/ and I'm super excited to post on Brewing Up Books today! Nice to meet you 🙂 Let's get into the review: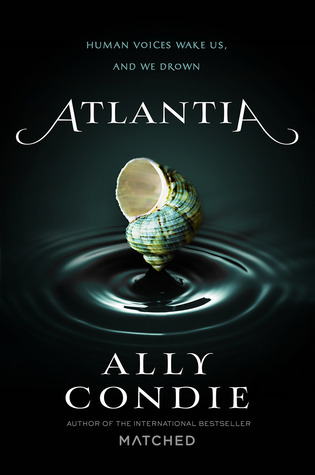 Author: Ally Condie
Publisher: Dutton Children's
Release Date: 10/28/14
Rating:
Goodreads Synopsis:
Can you hear Atlantia breathing?
For as long as she can remember, Rio has dreamt of the sand and sky Above—of life beyond her underwater city of Atlantia. But in a single moment, all her plans for the future are thwarted when her twin sister, Bay, makes an unexpected decision, stranding Rio Below. Alone, ripped away from the last person who knew Rio's true self—and the powerful siren voice she has long hidden—she has nothing left to lose.
Guided by a dangerous and unlikely mentor, Rio formulates a plan that leads to increasingly treacherous questions about her mother's death, her own destiny, and the complex system constructed to govern the divide between land and sea. Her life and her city depend on Rio to listen to the voices of the past and to speak long-hidden truths.
My Thoughts:
I did not expect this book at all…I was hooked by the synopsis which seemed to be the most unique water-based book I've read in awhile. I write "water-based" because it isn't a mermaid book, yet it still takes place largely underwater. I thought that the characters could have used slightly more development, which it the main reason I gave it four smooches instead of five. I'm kind of ashamed to admit that I have never read a book by this author before, but I'm SO glad I read this! I thought it was a wonderful blend of creepy, fantastical, colorful, and a dusting of romance. It was a generally short read and I think would be a great pick to use towards your Goodreads challenge because of the length and pacing. Now, I'm usually pretty picky when it comes to pacing and character development and have been known to deduct a rating level when one of them is not up to par. I already talked a bit about development, but not about pacing. The pacing of the novel was excellent and I thought that everything was timed almost perfectly. My absolute favorite feature of this book was how creative it was. Oftentimes I've found dystopian or dystopian-type novels tend to repeat the same plotline with a bit of alteration. Atlantia, however, managed to be dystopian, but at the same time added a whole new level of just pure out-of-the-box thinking that I haven't seen before in the genre. Overall, I would definitely recommend reading this, and I think it is a great book to end the summer with.
*allow time for a mourning period over the loss of summer*
….
…..
……..
Thanks for having me and I hope you have a fantastic weekend!