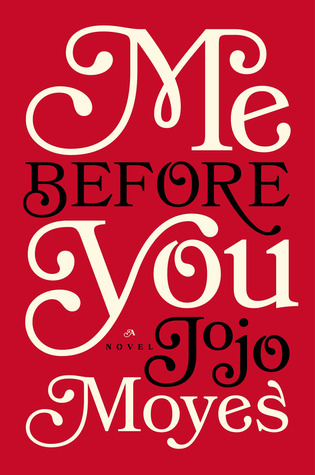 Title: Me Before You
Author: Jojo Moyes
Series: Me Before You Series
Publisher: Pamela Dorman Books/Viking
Publish Date: December 31st, 2012
Genres: Adult, Fiction, Contemporary, Romance
Lou Clark knows lots of things. She knows how many footsteps there are between the bus stop and home. She knows she likes working in The Buttered Bun tea shop and she knows she might not love her boyfriend Patrick.
What Lou doesn't know is she's about to lose her job or that knowing what's coming is what keeps her sane.
Will Traynor knows his motorcycle accident took away his desire to live. He knows everything feels very small and rather joyless now and he knows exactly how he's going to put a stop to that.
What Will doesn't know is that Lou is about to burst into his world in a riot of colour. And neither of them knows they're going to change the other for all time.
There are some magical books I have read that I have devoured simply because they were captivating, and they seemed even more magical when I realized that I didn't mind staring at a wall for a few hours just thinking about it. Seriously, when I wasn't reading this book, I was thinking about it.
Let's start with Lou. I truly wasn't sure how well Lou and I were going to get along in the beginning. She was OCD enough to know the amount of steps between her home and a bus stop, for goodness' sake! It quickly became evident to me however that Lou's eccentricities made her a divinely quirky and amusing character. Lou is constantly making snarky jokes, even if she isn't supposed to, and brings human fears and feelings to life.
Will I would've liked to known better. I felt like he ran off to the world inside his head quite often, and it made me curious. I wanted to know what was going on in there. I enjoyed his way of encouraging Lou to try new things, to push her outside of her comfort zone.
Now the writing I found hilarious the majority of the time. Will and Lou had a lot of natural chemistry and never really felt forced. There were happy moments that I took from this book that I won't be forgetting anytime soon. I like Lou's relationship with Treena as well. As an older sister with a younger sister, I could sympathize with Lou a lot, and felt that their relationship was a fairly accurate representation of sisters in real life.
This book didn't have a lot of romance romance, but with everything else that was jam-packed into it, I don't think that even mattered.
The things this book taught me really can't be counted either. Stories like this remind us that when you fall in love with someone, it's not for who they seem to be, what they might have or be able to do, or any of that irrelevant crap. When you fall in love with someone, it is purely in the end about who they are. It taught me a lot I didn't know about disabled people, and it charged headfirst into a gray moral zone and prodded at subjects that make most people uncomfortable. I liked the boldness of this book a lot. I often think a book shouldn't be something you take quietly and absorb as you read it. No, a book should slap you in the face and stun you, and this book manages to do exactly that on a very good level.
Definitely a book deserving of all the hype. I highly recommend it and if I had the copies, I would probably throw it at random passerby's and demand they read it.
P.S: I was also extremely excited to watch the commercial for the movie after reading the book and was pleasantly surprised to hear lines directly from the book! I may post a movie review comparing it to the book after I watch it, so look out for that 😉
| | |
| --- | --- |
| Categories | Ratings |
| Plot & Premise | |
| Characters | |
| Writing Style | |
| Romance | |
| Friendships | |
5/5 Cauldrons
---
Kenzie
I'm in love with reading, and have been since I was able to hold a book. But when I'm not reading, I'm working hard towards my other passion: Music. I play in all ensembles my school offers, and some outside of that. I'm a junior in high school, and I aspire to be a performing musician one day.
I usually stay with YA, but I've been known to venture into some odd areas as well. I also sometimes read younger than my level because of my middle school sibling.