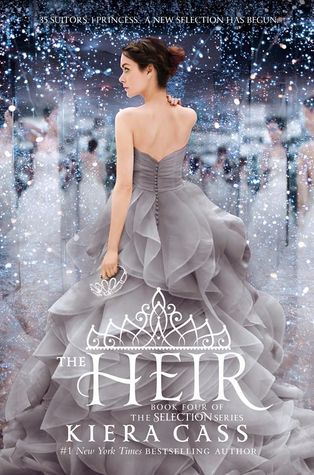 Title: The Heir
Author: Kiera Cass
Series: The Selection Series
Publisher: HarperTeen
Publish Date: May 5th, 2015
Genres: Young Adult, Fiction, Romance
Princess Eadlyn has grown up hearing endless stories about how her mother and father met. Twenty years ago, America Singer entered the Selection and won the heart of Prince Maxon—and they lived happily ever after. Eadlyn has always found their fairy-tale story romantic, but she has no interest in trying to repeat it. If it were up to her, she'd put off marriage for as long as possible.
But a princess's life is never entirely her own, and Eadlyn can't escape her very own Selection—no matter how fervently she protests.
Eadlyn doesn't expect her story to end in romance. But as the competition begins, one entry may just capture Eadlyn's heart, showing her all the possibilities that lie in front of her . . . and proving that finding her own happily ever after isn't as impossible as she's always thought.
I'll be honest. I had a really hard time deciding if I wanted to read this book or not. America and Maxon had been so amazing, I wasn't quite sure Eadlyn could measure up. And in some ways, I was correct. But in many other ways, Eadlyn showed us a new side of Illea that was pretty fun to see.
Eadlyn herself wasn't a character I really got along with. She was bratty, immature, and exactly what you would imagine a selfish princess to be. I didn't agree with how she thought about things, but it did give us a nice platform to view character development.
Now the boys from the Selection were pretty straight-forward. I kind of felt like I was drowning at first though, because suddenly there were so many names. Even towards the end of the second book I couldn't quite keep all the names straight, which was a little bit annoying.
There was a distinct lack of romance in this novel unlike the other Selection books. I suppose it was mainly because Eadlyn was just trying to wait out her Selection, and the boys seemed fairly 2 dimensional to me.
It was adorable though. Some of the events she had with the boys made me laugh really hard or sigh in contentment. And one very positive thing I can say about Eadlyn was her love for her family and her hard work were definitely genuine. We got to learn about America and Maxon's future, which was enjoyable.
Nothing very groundbreaking happens in the continuation of the series, so you don't necessarily have to read it if you don't want to. I did because I was bored, but I enjoyed the first three much more.
| | |
| --- | --- |
| Categories | Ratings |
| Plot & Premise | |
| Characters | |
| Writing Style | |
| Romance | |
| Friendships | |

2.5/5 Cauldrons
---
Kenzie
I'm in love with reading, and have been since I was able to hold a book. But when I'm not reading, I'm working hard towards my other passion: Music. I play in all ensembles my school offers, and some outside of that. I'm a junior in high school, and I aspire to be a performing musician one day.
I usually stay with YA, but I've been known to venture into some odd areas as well. I also sometimes read younger than my level because of my middle school sibling.