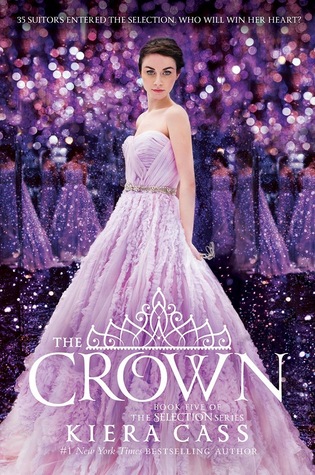 Title: The Crown
Author: Kiera Cass
Series: The Selection Series
Publisher: HarperTeen
Publish Date: May 3rd, 2016
Genres: Young Adult, Fiction, Romance
When Eadlyn became the first princess of Illéa to hold her own Selection, she didn't think she would fall in love with any of her thirty-five suitors. She spent the first few weeks of the competition counting down the days until she could send them all home. But as events at the palace force Eadlyn even further into the spotlight, she realizes that she might not be content remaining alone.
Eadlyn still isn't sure she'll find the fairytale ending her parents did twenty years ago. But sometimes the heart has a way of surprising you…and soon Eadlyn must make a choice that feels more impossible—and more important—than she ever imagined.
Ok, ok, ok. I know I said in The Heir review that it wasn't a necessary thing to read these last two books, but let me tell you this: If you read The Heir you have no choice but to read The Crown just because of the cliffhanger that book leaves you on.
I'm thinking we are going to have to have a discussion post about cliffhangers and bad luck, because I have the endless bad luck of picking up a series that isn't quite finished yet, zooming through it to the last book that has yet to be released, and getting left on dumb cliffhangers. Because, yes, that seems to be how my life works.
The point is, I was left waiting for this book. I could have waited for any book in this series and have been ok with it, but of course it was this specific book I was left waiting for.
I honestly must say I enjoyed this book more than the first in this spin-off miniseries. Eadlyn finally grew up a little bit, and by the end her bratty attitude had almost completely vanished. This story actually had a lot more plot and drama, though I still found the romance lacking.
Another good thing: SO MANY MORE PLOT TWISTS. Some of them, I'll admit I was expecting, but others of them I needed help getting my jaw off the floor.
As for Eadlyn's final choice (don't worry I'm not gonna leave any spoilers in here), I expected it, but I don't think enough context clues were given to hint us in. Which is just another point under the "Lack of Romance" list I have going on.
Overall though, I truly thought it was an ok book. It was better than The Heir, and a fairly easy read.
| | |
| --- | --- |
| Categories | Ratings |
| Plot & Premise | |
| Characters | |
| Writing Style | |
| Romance | |
| Friendships | |

3/5 Cauldrons
---
Kenzie
I'm in love with reading, and have been since I was able to hold a book. But when I'm not reading, I'm working hard towards my other passion: Music. I play in all ensembles my school offers, and some outside of that. I'm a junior in high school, and I aspire to be a performing musician one day.
I usually stay with YA, but I've been known to venture into some odd areas as well. I also sometimes read younger than my level because of my middle school sibling.