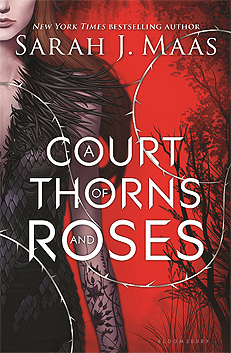 Title: A Court of Thorns and Roses
Author: Sarah J. Maas
Series: A Court of Thorns and Roses Series
Publisher: Bloomsbury USA
Publish Date: May 5th, 2015
Genres: Young Adult, Fantasy, Romance
Feyre's survival rests upon her ability to hunt and kill – the forest where she lives is a cold, bleak place in the long winter months. So when she spots a deer in the forest being pursued by a wolf, she cannot resist fighting it for the flesh. But to do so, she must kill the predator and killing something so precious comes at a price …
Dragged to a magical kingdom for the murder of a faerie, Feyre discovers that her captor, his face obscured by a jewelled mask, is hiding far more than his piercing green eyes would suggest. Feyre's presence at the court is closely guarded, and as she begins to learn why, her feelings for him turn from hostility to passion and the faerie lands become an even more dangerous place. Feyre must fight to break an ancient curse, or she will lose him forever.
Within the past month and a half, I've officially picked up my first Sarah J. Maas book.  Yes, I am a horrible human being and am very talented at delaying popular series until they become obsolete.  And I would likely still be procrastinating with respect to Maas' series if it weren't for Kathy over at The Novelty of Life.  What started off as a Court of Thorns and Roses buddy read has gradually evolved into a buddy read of the entire series, and I'm currently pushing to tack on the Throne of Glass series.  We're currently midway through A Court of Wings and Ruin, and I have zero regrets.
Above and beyond an awareness of the general consensus that Sarah J. Maas is a literary goddess and can do no wrong, I delved into the series with zero knowledge of its summary, premise, characters, etc., which may have correlated with my instantaneous love for the books.  I almost prefer diving headfirst into a new book or series utterly blind because this allows me to approach the work with an entirely unbiased and open mindset.  A Court of Thorns and Roses surpassed all of my unrealistically elevated expectations and quickly skyrocketed onto my list of my favorite reads of 2017.
I was taken aback by the sophisticated world building and its subtle introduction and presentation, avoiding saturated information dumps that readily put me to sleep.  Each scene was beautifully complex, laden with intricate details which served to present a more compelling and comprehensive narrative without overburdening readers.  I was shocked by the sheer number of elaborate layers that Maas incorporated into both the setting and plot – nothing ever was as it appeared, which left me hanging on every word. Laden with unpredictable twists and turns, the novel continually kept me on my toes and was exceedingly difficult to put down.
While I adored the premise and plot, they weren't entirely original.  There were distinct fairytale components which stemmed from the obvious Beauty and the Beast influences.  I'm generally very hesitant about picking up fairytale retellings, as I usually find them riddled with plot holes and poorly adapted characters.  That being said, Maas did an excellent job of adding her own unique twists to the tale, creating a host of complex, multidimensional characters and spinning an enticing plot that kept me on the edge of my seat.  Similarly, the references to a wall separating the fae and human worlds were highly reminiscent of Game of Thrones.
I'm an adamant (and fairly vocal) supporter of independent, kickass female protagonists, and Feyre certainly delivered in that respect.  I was particularly intrigued by her selflessness, a trait which is often forgotten and buried beneath self-centered plot lines in comparable YA literature.  Most importantly, Feyre doesn't attempt to single-handedly tackle every hurdle that's thrust in her past.  She recognizes the importance of seeking help when necessary, avoiding many of the frustrating pitfalls that are commonly associated with strong female characters.
The minor characters were wonderfully crafted, and each served a very specific purpose within the series overall.  There were no mysterious appearances or disappearances of these characters, which is always appreciated, and this was complimented by the exquisite development of each and every character referenced in the book.  The characters' intertwined backstories, while not immediately obvious or prevalent, were frequently revisited, both during A Court of Thorns and Roses and the remainder of the series, indicating Maas' unprecedented attention to detail and sophisticated talent of weaving together many independent stories.
Furthermore, I love how Tamlin and Feyre's romance served as a central plot point for the novel, rather than fading into forgotten nonexistence during the novel's climax and resolution.  Maas avoided many of the common stereotypes and detailed an intriguing, gradual love story which rapidly changed and evolved alongside the story.  I appreciated the more explicit scenes which catered to a New Adult audience, which served as a refreshing change when compared to the traditional YA equivalents.  I was even more overjoyed with the lack of a love triangle – I must admit, Lucien's initial introduction, attractive features, and charming personality had me rather nervous.
While there were some inconsistencies with respect to pacing, these deviations were intentional and well-implemented.  The introduction was discrete, suspenseful, and moderately paced in a tremendously successful attempt to reel in readers and allow them to form associations with each of the characters.  For the most part, the middle portion of the book assumed a slower, burning pace which allowed for significant character-development, which was truly the driving force for the tale.  This was sharply contrasted by the intense, action-packed climax, which shortened my life by several years but was incredibly enjoyable nonetheless.
The heart-pounding, white-knuckled and utterly unpredictable conclusion didn't disappoint and kept me anxiously reading until two in the morning.  Needless to say, waking up three hours later for work was not a pleasant experience, but it was 100000000% worth it.  The resolution revealed the connections between all of the convoluted, interwoven plot points and the multifaceted characters, the majority of which I hadn't connected on my own.  I was enthralled until the final page and wasn't ready to let go of the characters with which I had fallen in love.  Hence why I continued to marathon the remaining published books in the series.
Ultimately, A Court of Thorns and Roses serves as an excellent bridge for readers who are looking to transition from Young Adult to New Adult literature, since it contains a flawless mixture of components from both genres.  The unique plot is an emotional roller coaster of ups and downs laden with an array of elaborate characters that readily stole my heart.  Sarah J. Maas has assumed a well-earned place among my favorite authors of all time, and I severely regret waiting this long to pick up her books.  Now if you'll excuse me, the Throne of Glass series awaits…
| | |
| --- | --- |
| Categories | Ratings |
| Plot & Premise | |
| Writing Style | |
| Characters | |
| Romance | |
| World-Building | |
5/5 Cauldrons
---
Olivia
I'm a 20 year old college student with a love of reading and a high tolerance for caffeinated beverages. When I'm not wrapped up in my pre-medical coursework, I'm usually engrossed in a fantasy or psychological thriller, interspersed with the occasional young adult novel.