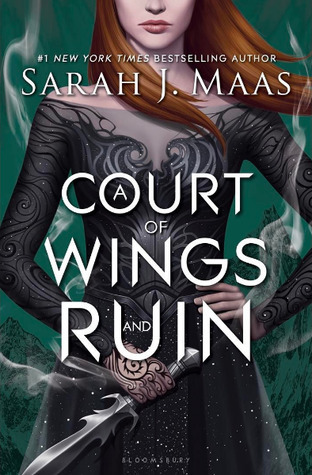 Title: A Court of Wings and Ruin
Author: Sarah J. Maas
Series: A Court of Thorns and Roses Series
Publisher: Bloomsbury USA
Publish Date: May 2nd, 2017
Genres: Young Adult, Fantasy, Romance
Looming war threatens all Feyre holds dear in the third volume of the #1 New York Times bestselling A Court of Thorns and Roses series.
Feyre has returned to the Spring Court, determined to gather information on Tamlin's maneuverings and the invading king threatening to bring Prythian to its knees. But to do so she must play a deadly game of deceit-and one slip may spell doom not only for Feyre, but for her world as well.
As war bears down upon them all, Feyre must decide who to trust amongst the dazzling and lethal High Lords-and hunt for allies in unexpected places.
In this thrilling third book in the #1 New York Times bestselling series from Sarah J. Maas, the earth will be painted red as mighty armies grapple for power over the one thing that could destroy them all.
Once again, Sarah J. Maas' writing was impeccable, and she successfully wove together multiple intricate plots, incorporating a variety of unpredictable twists and turns.  A Court of Wings and Ruin had me attempting to keep my tears at bay, as well as laughing until I cried as I rooted for my favorite characters while cursing those which I despised (namely Tamlin).  The erratic pacing worked to the novel's advantage, conveying the characters' sense of urgency with respect to Hybern's looming threat.  As a tremendous fan of fantasy works which are perched on massive, multi-faceted political systems, warfare, and military tactics, I loved the direction in which Maas shifted the focus of the series.  She emphasized a plot-driven narrative without belittling or obscuring the importance of the various characters and relationships that were at play.
Similarly, I enjoyed the expansive and continued world-building that was introduced in the form of an overview of the other courts of Prythian.  Both the courts and their leaders were carefully crafted, and their complex backstories added further depth to the novel, as well as providing clarity with respect to previously referenced tales, relationships, and tensions.  While I would've liked a more expansive glimpse into the Winter and Autumn Courts, I appreciated the brief descriptions that Maas provided for each, as they allowed me to more fully immerse myself into the story.
I loved each of the members of the Night Court, and they complimented one another perfectly, serving to lighten the mood and engage readers by introducing an emotional investment into the story.  A Court of Wings and Ruin presented a more complete picture of the diverse, tight-knit family that was composed of the various members of Rhysand's court, drawing upon the characters' individual strengths and weaknesses throughout the book.  Most importantly, each of these characters were flawed, shedding them in a realistic light as they stumbled and attempted to learn from their respective mistakes and shortcomings.  Their easygoing, unwavering relationships were enviable, and it was painful clear that each of them was prepared to die on behalf of the others.  Maas beautifully crafted their unique personalities and subtly portrayed the progression of their raw emotions throughout the novel, establishing a truly three dimensional host of characters.
Both the major and minor characters underwent significant development, particularly Feyre.  Many of my previous complaints with respect to her whiny, spineless personality were thankfully resolved, and it led to a much more pleasant reading experience.  Feyre's growth and transformation over the course of the series was a testament to Maas' beautiful writing style and talent as an author.  Furthermore, it was intriguing to get a glimpse into her cunning, manipulative side while she wreaked havoc on the Spring Court.
Unsurprisingly, I adore the ongoing romance between Feyre and Rhysand, especially from the perspective of Feyre being pitted as Rhysand's equal.  Rhysand further solidified himself as ideal book boyfriend material in this installment, and I can't say I was disappointed.  That being said, I didn't appreciate the over-the-top, eye-roll inducing sex scenes:
"There is blood on you. Yours, and others'. I thought I'd be a good mate and offer you a bath before I ravish you wholly."

I huffed a laugh and brushed back his hair, savoring the silken, sable strands between my fingers. "So considerate. Though I can't believe you kicked everyone out of the house so you could take me to bed."

"One of the many benefits to being High Lord."

"What a terrible abuse of power."

That half smile danced on his mouth. "Well?"

"As much as I'd like to see you attempt to lick off a week's worth of dirt, sweat, and blood…" His eyes gleamed with the challenge, and I laughed again. "Normal bath, please."
Despite these cringeworthy and incredibly unrealistic scenes (what mentally stable individual would offer to "lick off a week's worth of dirt, sweat, and blood?"), I admired the unfaltering faith and trust which they placed in one another.  Despite the world that was crumbling down around them, they remained devoted to each other and their shared ideals, simultaneously avoiding many of the YA tropes that plague romantic relationships.
I had very mixed emotions about the conclusion of the book, which resulted in an otherwise five-star read being to demoted to only four stars. While I was enthralled by the fast-paced, action-heavy climax and enjoyed the emotionally tormenting conclusion like the sadist that I am, I found certain aspects of it to be incredibly reminiscent of the ending in A Court of Mist and Fury. Furthermore, I was anticipating a more emotionally devastating outcome – ultimately, everything seemed to wrap up a little too perfectly, and there was relatively no heartbreak involved. While George R.R. Martin has a tendency to take character slaughtering to an extreme, one of his quotes on the topic has several exceedingly valid points:
"I've been killing characters my entire career, maybe I'm just a bloody minded bastard, I don't know, [but] when my characters are in danger, I want you to be afraid to turn the page (and to do that) you need to show right from the beginning that you're playing for keeps."
While there was inarguably a great deal of bloodshed in the novel's final chapters, these deaths primarily accounted for nameless, faceless soldiers and held zero emotional appeal.  Instead, I would have preferred to see more debilitating and/or mortal injuries to one of more of the cast of major characters.  The final 100 pages of the book appear to be setting readers up for some tremendous emotional turmoil, yet nothing comes of it.
Overall, I'm overjoyed that I decided to pick up the Court of Thorns and Roses series, and I've found it to be an excellent introduction into Sarah J. Maas' writing.  While I'm not thrilled about this series transitioning from a trilogy to a six-part series, I still plan to see it to completion.  With respect to the final three installments, I'm apprehensive, particularly from the perspective that they will continue to loop around the same storylines and political and military tensions within Prythian.  Having read only the first three novels, I've already identified a host of overlapping themes and similar plot lines, and I'm nervous that these will be exceedingly prevalent in the concluding books.  Nevertheless, I'll be clicking the "Pre-Order" button on Amazon the instant book #4 becomes available and will be putting aside all thoughts of sleep or other human necessities the second it arrives.
| | |
| --- | --- |
| Categories | Ratings |
| Plot & Premise | |
| Writing Style | |
| Characters | |
| Romance | |
| World-Building | |
4/5 Cauldrons
---
Olivia
I'm a 20 year old college student with a love of reading and a high tolerance for caffeinated beverages. When I'm not wrapped up in my pre-medical coursework, I'm usually engrossed in a fantasy or psychological thriller, interspersed with the occasional young adult novel.